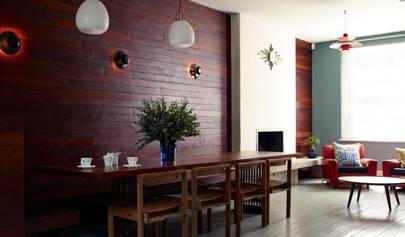 Maria Speake of reclamation experts Retrouvious shares four essential tips to guide the process of any reclaimed flooring installation
1
Although people worry about laying reclaimed wood flooring over underfloor heating, it is totally possible. Choose your wood carefully – go for a wood with a dense grain, such as mahogany or panga panga, because they are very stable and there will be less movement. We have also used pine, but build it up very slowly. Stick to either parquet or strip flooring, because small blocks are more sturdy than long and wide boards.
2
Make sure that your builders and contractors are confident working with reclaimed wood. It is often covered in bitumen and can be difficult to install.
3
I am not against using engineered boards if a house requires a broader floorboard width, because reclaimed wide-width boards are very expensive and difficult to find.
4
If you are using new wood but want the rougher, earthy look of reclaimed boards, use two solid wood or engineered boards that are minimally different in height and alternate them for a less polished look.
Four fail-safe paint colour palettesFour fail-safe paint colour palettes
Style File: Retrouvius
DECORATION
Style File: Retrouvius
Six Patterns for Wooden Floors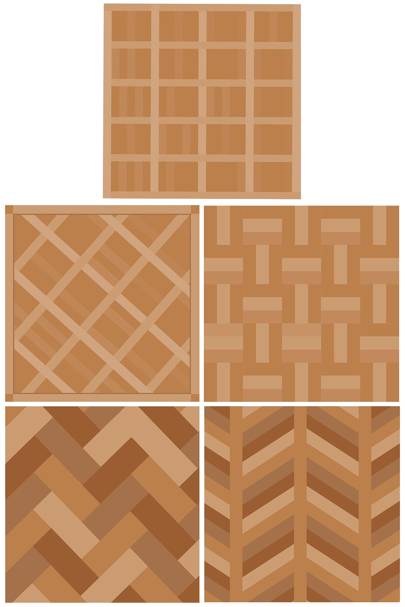 Tips on the best timber to choose for your flooring, from
robust hardwoods to cost-effective softwoods.
CLOCKWISE:
Ideas for curtains and blinds (with all the terminology you need to recreate them)Ideas for curtains and blinds (with all the terminology you need to recreate them)BY GABBY DEEMING
Hornbeam This robust pale hardwood is ideal for use in hallways and in kitchens – areas where there is generally a higher footfall. £195, from Element 7; element7.co.uk
Bamboo Technically a grass, bamboo is environmentally friendly as it grows quickly. It's also stronger than most hardwoods. From £17.99, from Simply Bamboo; simplybamboo.co.uk
Teak With a high oil content that repels moisture, this darkly coloured tropical hardwood is ideal for use in bathrooms and in kitchens. £550, from Weldon; weldon.co.uk
Larch This softwood is often used in boat building – evidence of its strength. Its grain works well in traditional interiors. 'Artisan Calder Plank', £110.57, from Ted Todd; tedtodd.co.uk
Pine This is a cost-effective and smart softwood, but can dent fairly easily. 'Maritime Pine Flooring' (unfinished), from £24, from Fine Oak Flooring; fineoakflooring.co.uk
Douglas Fir Harder than pine, douglas fir is available in long lengths as well as extra-wide planks. From £92 (treated with white soap and lye), from Dinesen; dinesen.com
Oak The king of the hardwoods, oak is remarkable for its versatility – it can be stained to any shade, dark or light. 'Oak Natural Oiled', from £54.85, from Ecora; ecora.co.uk